The Light Storm 300d II from Aputure is a punchy LED hard daylight source with a luminance of up to 80,000 lux (spot at 1m with the 2X fresnel modifier). Use it as a hard light source or soften it up with frames or Bowens compatible modifiers.
The 300d II also offers good colour fidelity, having a TLCI and CRI rating of 96 or higher. This is important for accurate colour reproduction with digital sensors.
The 0-100% stepless dimming helps you dial in exactly the luminance you need from each fixture. Special effects like lightning, strobe and paparazzi might also be useful for your particular application.
Specifications
Illuminance
Light Only (No Modifier)
1m: 11,000 lux
3m: 1,300 lux
5m: 550 lux
Light With Parabolic Reflector
1m: 45,000 lux
3m: 3,500 lux
5m: 1,200 lux
Light With 2x Fresnel Attachment
1m: 38,000 lux (flood) / 80,000 lux (spot)
3m: 5,000 lux (flood) / 9,500 lux (spot)
5m: 1,900 lux (flood) / 3.500 lux (spot)
Colour
Colour Temperature
5500K ±200K
TLCI Rating
≥96
CRI Rating
≥96
Power
Consumption
350W maximum
Power Supply
AC 100-240V 50/60Hz
Battery Operating Voltage
12V - 16.8V
Physical
Modifier Attachment
Bowens compatible
Mounting Interface
5/8" spigot
Dimensions
Fixture: 298 x 216 x 345mm.
Ballast: 279 x 127 x 97mm.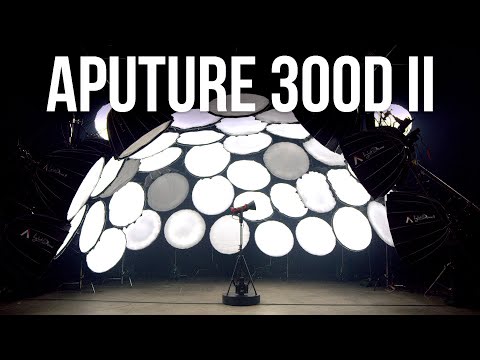 Introduction
An introduction to the 300d II.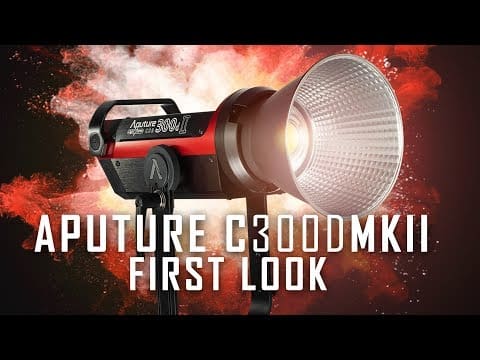 Curtis Judd Review
Curtis Judd reviews the 300d II.
Includes
The following items are included when you hire the Aputure Light Storm 300d II:
55° hyper-reflector
5-pin XLR head cable
Aputure 300d II controller
Aputure Light Storm 300D
Aputure stand clamp
COB protective cap
Remote control
transport case
More Information
Learn more about the Aputure Light Storm 300d II on the official product page.