The Blackmagic Design Atem Mini Pro is a powerful switching and streaming device that is small, versatile and easy to use with 4 HDMI inputs that support a large range of input formats.
The program video output can either be via HDMI, USB as a webcam device on Mac and PC, or to a streaming platform over ethernet using the built in stream encoder (YouTube, Facebook, Twitch etc).
All 4 inputs support audio input through HDMI, and each channel has a range of audio options to adjust levels and change how the audio behaves when the video is switched. Besides the HDMI audio inputs, there are also 2x 3.5mm inputs for connecting external audio sources directly to the Atem Mini Pro.
The Atem Mini Pro has a range of professional broadcast features including multiple transition options, picture in picture effects and an integrated chroma keyer. When used with the free companion software you open up even more options - in depth audio adjustments and filtering, a library that can be filled with still images to be used as overlays or cutaways, and camera control options when used with compatible Blackmagic cameras.
When connected to a computer via USB the device operates as a webcam input. This allows you to stream your switched video through your favourite video conferencing platform - Skype, Zoom, Google Hangouts, Facetime etc.
If you are looking to stream your video you can use the integrated streaming encoder to stream directly to YouTube, Twitch or Facebook when you connect the device to the internet via an ethernet cable.
Specifications
Inputs and Outputs
Video Inputs
4x HDMI
Audio Inputs
2x 3.5mm stereo mini jack
Video Outputs
1x HDMI
1x USB-C webcam
Control Interfaces
1x Ethernet
1x USB-C
Supported Standards
HD Video Input
1080p23.98, 1080p24, 1080p25, 1080p29.97, 1080p30, 1080p50, 1080p59.94, 1080p60
1080i50, 1080i59.94, 1080i60
720p50, 720p59.94, 720p60
HD Video Output
1080p23.98, 1080p24, 1080p25, 1080p29.97, 1080p30, 1080p50, 1080p59.94, 1080p60
Video Streaming
1080p23.98, 1080p24, 1080p25, 1080p29.97, 1080p30, 1080p50, 1080p59.94, 1080p60
Ultra HD Video Standards
None
HDMI Input Resolutions from Computers
1920x1080p 23.98, 24, 25, 29.97,30, 50, 59.94 and 60Hz
1920x1080i 50. 59.94 and 60Hz
1280x720p 50Hz, 59.94 and 60Hz
Video Sampling
4:2:2 YUV
Colour Precision
10-bit
Colour Space
Rec. 709
Colour Space Conversion
Hardware based real time
Audio Mixer
6 input x 2 channel mixer.
Selectable On/Off/Audio-Follow-Video per channel plus separate gain control per channel.
Level and Peak metering.
New Fairlight audio enhancements: Compressor, Gate, Limiter, 6 bands of parametric EQ. Master gain control.
Streaming
Direct Streaming
ATEM Mini Pro supports direct live streaming over ethernet using Real Time Messaging Protocol (RTMP).
Recording
Direct Recording
1 x USB-C 3.1 Gen 1 expansion port for external media to directly record MP4 H.264 with AAC audio at the ATEM video standard.
Media Filesystem
Can format media to ExFAT (Windows/Mac) or HFS+ (Mac) file systems.
XAVC Long QFHD 3840 x 2160
23.98p/25p/29.97p: VBR. MAX bit rate 100 Mbps.
50p/59.94p: VBR. MAX bit rate 150 Mbps.
Power
Power Supply
1 x External 12V power supply.
Power Usage
36W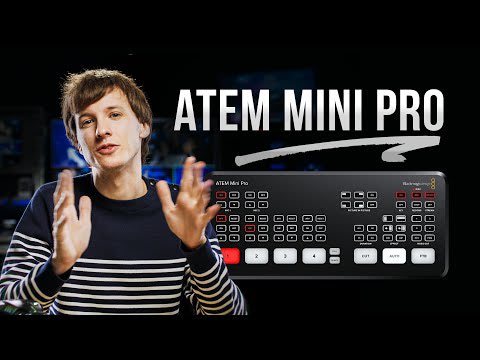 Intro & Tutorial
An introduction and getting started guide.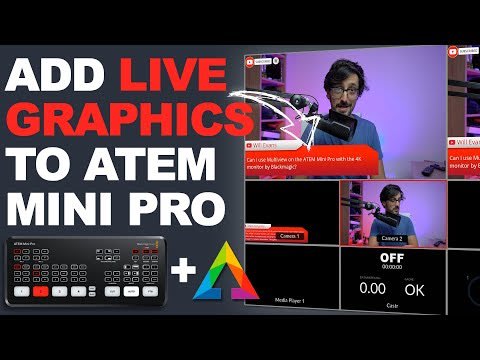 Live Graphics
How to add graphic overlays.
Includes
The following items are included when you hire the Blackmagic Atem Mini Pro:
2 x 3m HDMI cable
AC adapter
USB-A - USB-C cable
USB-C - USB-C cable